Best Places to Work Remotely in Barbados
Barbados has now welcomed digital nomads to our shores under the Barbados Welcome Stamp.  See an article I guest posted on the Barbados Welcome Stamp.
With this new initiative, I am sure that digital workers are looking for the best places to work remotely in Barbados.  Here are some places that I recommend.
The Coffee Bean is a casual cafe offering exactly what's in its name coffee.  It is the Barbados version of Starbucks.  There are lots of stores all over the island.  The Coffee Bean is also any cafe lover's ultimate dream as they serve a wide variety of hot & cold coffees, blended drinks, and a delectable range of delicious food including: hot & cold coffees, blended drinks; bagels & croissants; fresh soups, salads, wraps, sandwiches and paninis; and sweet treats like carrot cake, banana bread, cookies, brownies & more.
Here are the locations: Welches (located behind Cost-u-less), Hastings (next door to Sugar Bay Resort), Collymore Rock,  Sunset Crest (Sunset Mall, St. James)  on the 2nd Floor, Cave Shepherd, Broad Street, Bridgetown and Peronne Village (behind Price Lo Supermarket).
The wifi is fast and complementary this is a great place to work remotely.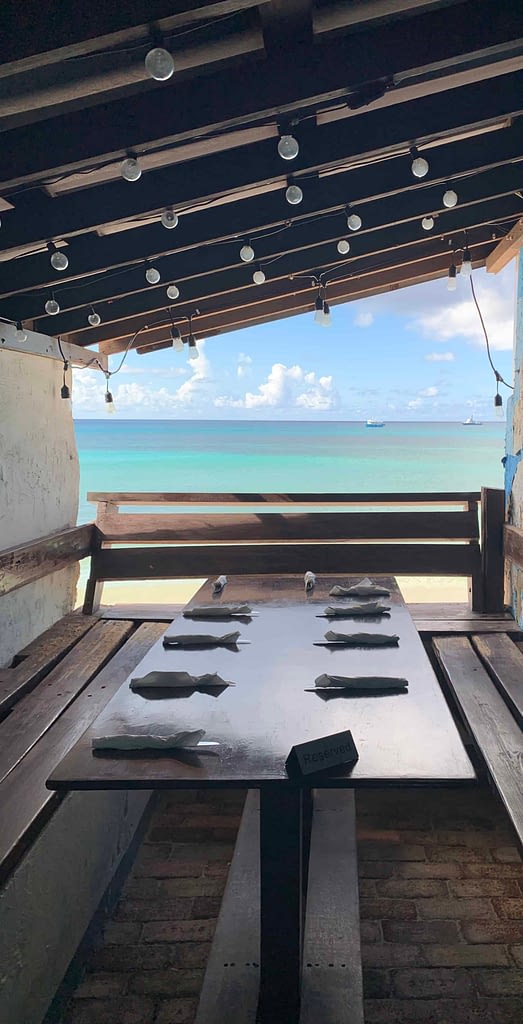 Surfer's Cafe is located in Oistins, Christ Church right of the main road across from the Massy Supermarket.  This place is so charming and definitely in my opinion has one of the best views in Barbados to eat food.  It is open for early breakfast, lunch and afternoon bites.   They offer complimentary wifi.  This place is great for those times when you want a view along with good food. The staff here are also so friendly.  If you want a more spacious sitting for you and your friends on the side there a big table with a gorgeous view of Oistins.
Senses March is located in Belleville, St. Michael.  This area is a popular location with lots of doctor's offices, pharmacies, office buildings and the hospital in close proximity.  It is also right outside the capital of Bridgetown.  This spot is so chic and it reminds me of a European cafe.  There are so many seats whether you prefer to be cool in the AC they offer various sittings for groups or for singles.
There is also a lovely open outdoor patio area with lots of sittings adequately spaced for privacy.  They are also a gourmet grocery.  They are open for breakfast and lunch.  They offer a delicious menu of baked goods, sandwiches, salads, and delectable desserts.  They have indoor and outdoor sitting.  They offer complimentary wifi.
Planet Juice is a black-owned restaurant located at the biggest mall in Barbados – Sheraton Mall. The restaurant is an innovative concept and very unique to the island of Barbados. It combines a restaurant with a clothing cafe where you can get custom-designed clothes.  The food menu is extensive and they offer lunch and dinner.  They also have a wide range of smoothies on offer.  WIFI is also complimentary.
Fall in Love with Barbados is located in the Limegrove Mall, St, James on the West Coast of the island.  When you enter it is an open floor filled with natural light.  This is one of several coworking spaces on the island and offers several tables to get comfortable and also complimentary wifi.  There is no fee to use the space.  Visitors are encouraged to support the sister brand, Food Stories Barbados which is organic healthy plant-based meals and drinks.
Regus Barbados is located in Welches, St. Thomas.  These coworking spaces offer you a lot more privacy if you are looking to host a meeting without any disruptions working from home is not for everyone.  There are 49 offices you can rent out on a daily basis.  There are also 2  meeting spaces available for rent.  It is very close to a large shopping and eating plaza, The Walk which is directly across the street from it.  Complimentary access to WIFI is included with your rental of space.
Desktops is located in Lower Estate, St. Gorge.  It offers a fully serviced co-working space for those seeking a higher level of privacy with private offices that can be secured on a daily, weekly, monthly, or yearly fee.  Meeting rooms are also available.  Additionally, this company can provide you with additional support services like tech support, call answering services, printing, and scanning services.