Where to find Delicious Local Cuisine in Barbados
Brown Sugar  – Delicious Local Cuisine in Barbados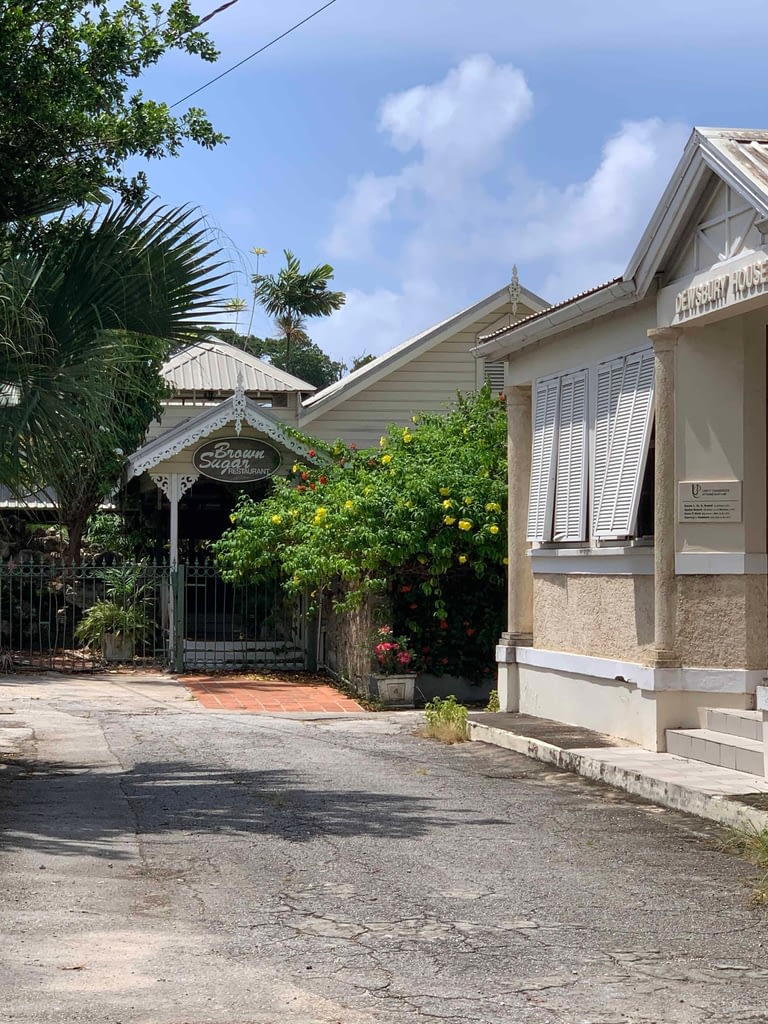 This restaurant is well known for its local cuisine.  It is located in the  Aquatic Gap close to several hotels including the Hilton Barbados, Island Inn, and Radisson Hotel.  They are a 5 to 10 minutes distance from this restaurant.  The restaurant is known for its all you can eat planter's buffet serving lots of variety of local dishes.  The restaurant is located in a charming traditional Barbadian home and is situated in the midst of a lovely garden with a fresh Caribbean breeze.  They even serve Barbados national dish cou cou and steamed flying fish on Wednesday and Friday's.  Their famous planter's buffet is served during lunchtime from Sunday to Friday.  No buffets are on Saturday.
This restaurant is infamous for its local cuisine.  Located in the city of Bridgetown.  It has a balcony where one can overlook passengers as you enjoy your delicious Bajan food. Known for its delicious Bajan beef stew, flying fish and  macaroni pie just to name a few of their specialties.  You will not be disappointed.
This is a casual establishment.  They also serve the national dish cou cou.  You can even try it as a side dish.  Along with fishcakes sold individually in case you only want to try one. Cutters are also on the menu.  What's a cutter in Barbados? It is a delicious fresh salt bread filled with either meat or cheese.
Typical Barbadian dessert is also on the menu sweets such as turnovers, rock cakes, currant slice and coconut cake.  The restaurant is open mainly for lunch check their page for the hours of operation. This is the most budget-friendly place to try a variety of Barbadian dishes in my opinion.  Plus they have also received the coveted Traveler Choice Award from Tripadvisor.
Oistins – Delicious Local Cuisine in Barbados
This is not a restaurant it is a group of small individual food establishments serving fish in a local fishing village area the town of Oistins.  It's known as fish fry.  You can find lots of local fish including Barbados famous flying fish.  The fish is served various ways fried or grilled.  There are many different vendors offer a variety of local fish.
The most popular day to visit Oistins is during Friday.  Expects lots of crowds of locals and tourists.  Making it difficult to navigate it you love the hustle and bustle and crowds with lots of music and vibes this it the day to go.
For me I prefer quiter days where I can grab my food and find a table so I prefer to go on Wednesday, Thursday or Saturday.  Oistins is good for a causal dinner out most vendors open around 5pm.  The prices are also very reasonable and are ideal for any budget.  My favorite vendors are Uncle George serves best grilled fish if looking for a healthy option and Chillin and Grillin.  It is definitely a must visit on a trip to Barbados.
Cuz Fish Shack – Delicious Local Cuisine in Barbados
This is a legendary establishment that I had read so much about before moving to the island of Barbados.  It has been voted one of the best places to eat in the world voted by Newsweek.  It is located on Pebble Beach in the parish of St. Michael.  Cruz is in a very popular area that does not require a car and surrounding it are lots of hotels.
The name says it all you will find a blue shack serving warm cutters.  What's a cutter? It is salt bread with either piece of meat or cheese.  Cuz is best known for their fish cutter.  They are delicious. You can also add different condiments. They typically come with lettuce and tomato. Cuz is typically there during the day.  This is a great spot for a quick meal after going to the beach.
This is a bar located in the parish of St. John.  It is commonly known as Lemon Arbor to locals.  Here they serve the well known Barbadian dish of pudding and souse.  What's pudding and souse?  Pudding is stemmed sweet potato and souse is pork that has been pickled with lime.  You can either get pork parts such as feet, ear or tongue or you can get lean which is just pork meat.
This place is super popular especially on Saturdays which is the traditional day to eat this dish.  The location of this bar is so unique as you will get views of the lush valley  from this bar.  The establishment also sells other popular Barbadian local cuisine such as fish, beef stew, macaroni pie just to name a few.  This is a casual bar.