I live on a small tropical island (21 miles long and 14 miles wide) my daughter and I love animals. The only thing is there aren't many varieties of animals where we live nor is there a zoo. Therefore the only way she can see animals is at a zoo or in the wild.
So when we were in Trinidad we went to the Emperor Zoo which was a 10 minute drive from the hotel we were staying at the Trinidad Hyatt Regency. The zoo is located close to the famous Queen's Park Savannah and opened in 1952. This zoo is a small zoo by North American standards with a variety of local animals and fish. There are over 100 animals.
What made it an interesting visit to this zoo is that we saw many animals and fish that were native to the areas surrounding Trinidad and Tobago and the adjacent continent of South America. The zoo offers is open year round from 9am – 6pm Monday to Sunday and even on Public Holidays. The entrance fee in 2020 was reasonable as follows:
Adults TTD 30.00 or average USD 5
Children TTD 15.00 or average USD 2
Parking TTD 20.00 or average USD 3
The staff were very friendly and asked my daughter if she wanted to participate in the feeding times. For example, you could feed the giraffes for TTD 10.00 and you can take as many photos as you like. This zoo may be small however, you can see a combination of birds, fishes, sea lion or otter, lions, tigers, monkeys, turtles, flamingo, peacock, porcupine, wild hog, agouti, deer, parrots, toucan, alligator, zebra. Apparently, the newest attractions were the Giraffes, Kangaroos, Zebra, Llamas and White Tigers.
I sometimes feel bad about animals in captivity but how else do I expose my daughter to animals for educational purposes. There is an ongoing debate in my head these animals should be in their own natural habitat. On the flip side, some animals would be extinct if they were not in a zoo as many zoos have conservation projects like the ones I have been too for example at San Diego Zoo and Sydney Zoo. Seeing animals in the wild in their natural habitat is amazing. I have only done this once before on a safari in South Africa :flag_za:-Kruger National Park.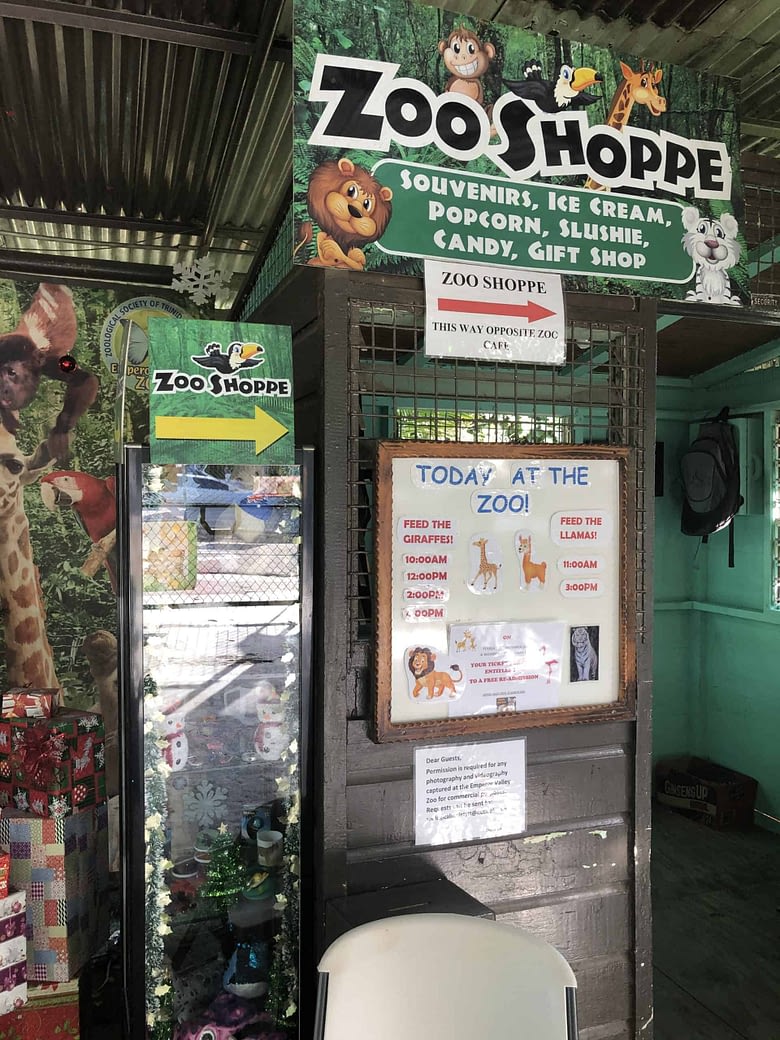 We spent about 1 hour at Carousel Park which is located in Port of Spain. My daughter at 5 years old enjoyed the rides. This park is definitely for a younger child. The website says for children 13 years and under. Some of the rides were not working at the time of our visit. The main ride the carousel was out of commission. Also, the hours are mainly limited to weekends in the evening and public holidays. TIP: Do visit their website or Facebook page before visiting. All in all my daughter enjoyed it. The rides were expensive to me at TT$30 and TT$20 rides each
There was an adjacent playground with a slide and a climber. She also had fun meeting new friends!. After you explore this park and playground which is also next to the Courtyard Marriott Port of Spain. There is plenty more entertainment such as movie theatre, a couple of shopping stores and restaurants at the actual MovieTowne. Also, it had my daughter's favorite fast food KFC restaurant. It was a fun day out for all!